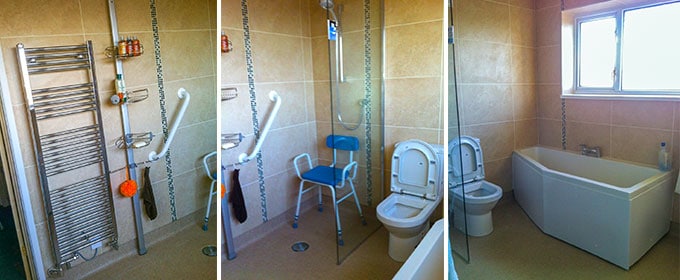 Thinking about converting an unused space in your home into a spacious bathroom? We can take care of the entire project for you.
To make sure that your Bathroom conversion will go smoothly, we have a highly qualified installation team to take care of that for you.
We can assure you that all the necessary steps will be properly accomplished according to the highest building regulation standards.  All of the work performed, including the plumbing, electrical or heating requirements are certificated to the appropriate Building Regulation.
Most importantly, we will aim to complete the project based on your personal preference within your desired budget.  In addition, all of our parts and services are fully guaranteed.
At RS Heating and Building Co., we are confident to offer you the best solutions for your utmost convenience in maintaining a high level of personal hygiene.
We aim to make your Bathroom the perfect place for you to simply unwind and enjoy a few minutes of relaxation.
When you decide to choose RS Heating and Building Co. Bathroom Service, we ensure that you get only the best. Our remit is to offer you nothing but quality finish and excellent results.
You can rest assured that from start to finish, we will work hard to give you what you need.
For us to have a thorough assessment of your bathing needs, which is free of charge, we will be glad to pay you a visit at home in your own convenient time.


Bath Tub to Shower Conversion
Do you hardly ever use your tub?
Why not have a tub to shower conversion?
We can help you make better use of your Bathroom space by replacing your bath with an extra-large and durable shower.
You can choose from our wide selection of shower doors, shelves, faucets, soap dishes, and other Bathroom accessories that come in different colors and designs.
Mobility Bathroom Conversions Overview
Bathing and showering may not be very relaxing for many, especially for those who find it difficult to climb in and out of a standard bath.
It can even be frustrating for less able users who can't step into a high shower tray.
Most users with mobility problems consider having a tub to shower conversion not only for convenience, but also for safety.
It can give an extended length of time to enjoy safe bathing in the comforts of their own homes.
If you're one of the many who are dealing with such difficulty, the solution is for you to have a walk-in bath. Removing your old bathtub and replacing it with a walk-in bath allows you easy access.
If needed, we can create wider doorways to wheelchairs; install switches, sinks and faucets that can be easily reached, a bell or an alarm, shower seats and others.
Bathrooms
Enhance your Bathroom with our wide selection of plumbing fixtures and other products.
Using the right items can help create a sense of space, luxury and comfort even for Bathrooms with limited space.
If you want to have a luxurious bathroom without spending a fortune, we can help you achieve this just by simply installing a freestanding bath.
Depending on your personal preference, you can choose to have it subtle and stick to the basics or to get creative and explore our combination of the most up-to-date and functional Bathroom designs.
We are experienced in bathing ergonomics.
We create walk-in baths and specialist baths, specially designed to fit your needs.
We will help you select the right bathing options for you, based on how often you use your bathroom, your preferences, levels of dependency and your future needs.
We offer lots of other Bathroom items or toilet accessories, such as grab-rails, toilet surrounds and toilet raisers, for your improved safety and convenience.
Wet Rooms & Shower Rooms
We offer to give you modern and minimalist yet stylish Wet and Shower rooms.
Choose from a sleek, contemporary, wet room to a semi-frameless or a fully enclosed shower.
If you prefer to have a shower door, a selection of various styles is available, such as hinged, pivoting and sliding shower doors.
We can help you find the best ways to achieve your desired bathroom layout within a reasonable budget.
Wet Room Facility / Level Access Showers
Having a wet room facility allows you to easily, safely enter the shower area.
This is easy to access even for those who are in a mobile shower chair.
Level access showers are similar to wet rooms. Although the shower-tray area is slightly elevated at 1.5 to 3 inches high, this is still considered by many as a minor hindrance, compared to showers that are enclosed in cubicles, and other shower arrangements.
VAT
Under the VAT act of 1994, chronically sick or disabled individuals are exempted from paying certain goods and services.
If you are disabled or are suffering from a long term illness, you will only pay the price excluding the VAT.