Competent Persons Scheme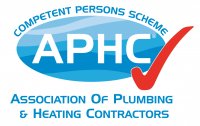 The APHC Competent Person Scheme has been developed to try and eradicate the harm that "cowboy" tradesmen do to innocent customers, the Government is introducing more and more regulations or the original ones strengthened.
With regards to Plumbing, one of the most important is Building regulations Part G. In essence, it states that any alteration to the sanitation i.e. the fitting of a new bathroom suite but in a different position, requires notifiation to the Authorities via the Town Hall, obviously at a cost.
The Competent Persons scheme (CPS) was founded by the original Deputy Prime Ministers office, now Communities and Local Government (CLG)
A company which has met the stringent criteria required for this scheme is allowed to self certify, thus negating the need and expense to notify the Town Hall.
For more information please see www.competentpersonsscheme.co.uk
It is essential that, before embarking on a costly alteration, the customer aquaints themselves with these specifications.
Please see www.planningportal.gov.uk
Water Regulations
New regulations are being brought into force which are effecting the way we use water and at what temperatures.
As this is a massive subject, we suggest that the following web site is inspected : www.opsi.gov.uk
Gas Safe Register
The H S E replaced the original CORGI organisation with Gas Safe Register.
Any person dealing with a gas appliance must be regstered for that unit.
For further details and a list of registered operatives, please see www.GasSafeRegister.co.uk
At RS Heating and Building Co. we strive to constantly to maintain all the numerous regulations which are designed to protect the customer, provide satisfactory work at recognised high standards and ease the transfer of the House when sold.
For a further insight into this complex world, please call Roger on 0114 236 4421